International Conference / Art Exhibition: Cultural Typhoon in Europe 2017 – "Beware Utopia!"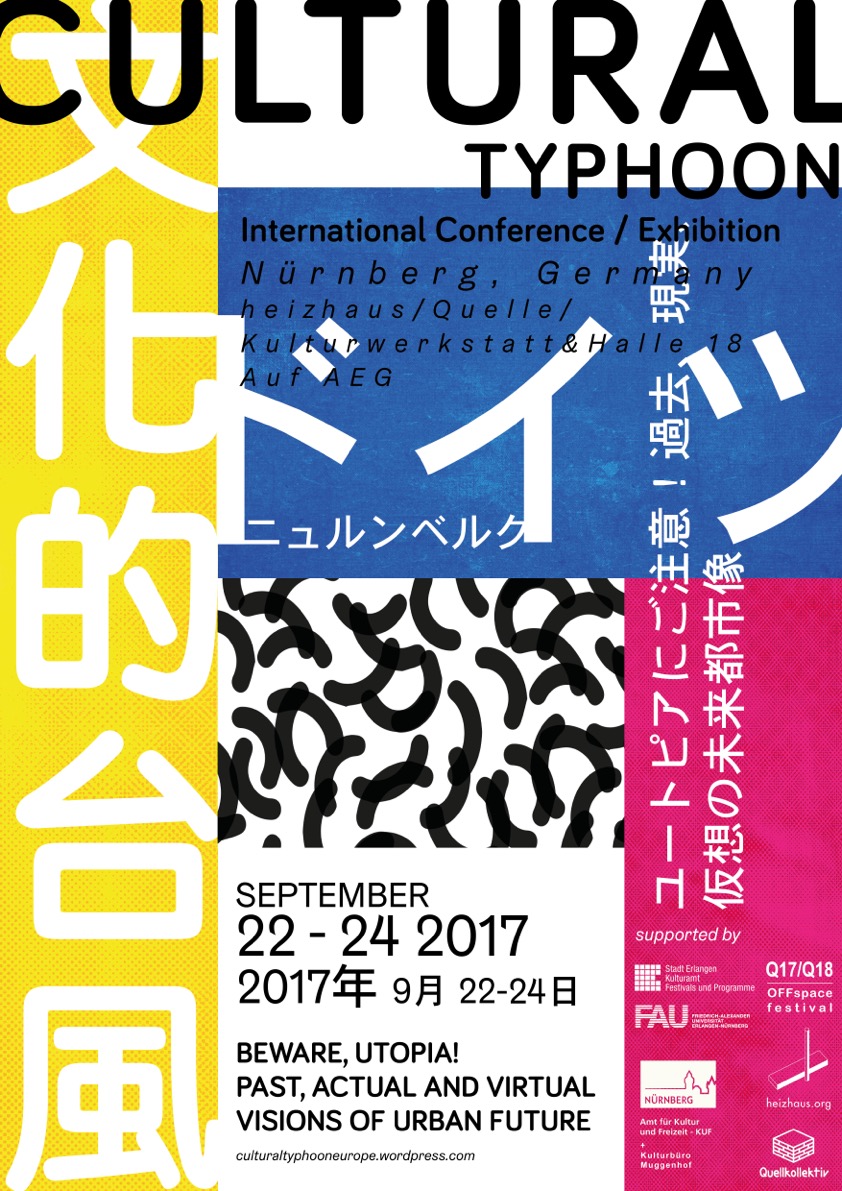 This year's Cultural Typhoon in Europe (CTE) in Nürnberg, bearing the title "Beware Utopia! Virtual, Actual and Past Visions of Urban Futures", provides a forum for scholars (with a specialization in Media and Cultural Studies, Urban Planning, Anthropology or the Social Sciences) as well as social activists and artists with an interest in urban cultures and politics or textual and visual representations of the (future) city, to discuss representations and places of contestation regarding the imagination or lived praxis of alternative or utopian urban planning and living. Taking place at heizhaus, a cultural laboratory of a realized urban utopia next to the grounds of Nuremberg's former Quelle mail-order firm – now itself a space of contestation regarding its future usage – and other post-industrial cultural spots – the Kulturwerkstatt and Halle 18 Auf AEG – we couldn't have thought of more suitable spaces to match the subject and the venue of this year's CTE in Nürnberg.
What is a "Cultural Typhoon"?
The Cultural Typhoon is an academic and cultural event that involves presentations and interactions based on an equal relationship among individuals of various positions, having its origins in Japan. Unrestricted by the existent form of academic conferences and symposiums, this event aims to facilitate a space for free and vigorous exchange of opinions and intellectual discussion between scholars/academics as well as social activists and artists who express themselves through myriad types of media.
At the time of a preparatory meeting for the first Cultural Typhoon in Japan in 2003, an actual typhoon was approaching Tokyo, almost obfuscating the inaugurating event. Based on this occurrence, the organizers decided to call the event Cultural Typhoon, because, similarly to the scope and idea of this conception, a typhoon moves forward while sucking in everything in its vicinity, then spitting out energy while moving away in an unpredictable direction. A trail is left in its wake, and sometimes, an unexpected meeting of emotion and rationality will create new perspectives. It is precisely this image of the 'typhoon' that we envisage as we engage in the work of the Cultural Typhoon project. Since its inception, the Cultural Typhoon has managed to carve out a unique space which supersedes conventional academic boundaries in Japan.
This event is organized by:
Fabian Schäfer & Tamara Fuchs, University of Erlangen-Nürnberg (Chair of Japanese Studies)
Stefan Becker & Maria Trunk, Institute for Applied Heterotopia, Barcelona – Dresden – Nürnberg
Generously supported by:
Stadt Erlangen (Kulturamt, Festivals und Programme)
FAU Erlangen-Nürnberg
Stadt Nürnberg (Amt für Kultur und Freizeit + Kulturbüro Muggenhof)
Q17/Q18 OFFSPACE Festival
heizhaus.org
Quellkollektiv
For further information and visitor registration (for lectures & workshops) please visit Cultural Typhoon Europe:
Feel free to join the art exhibition "Beware Utopia! Virtual" or attend the opening party at Halle 18 / Auf AEG!